Advantages of PRIME X WAX INJECTOR

Easy and simple operation panel with soft touch keys.
New worker can start working from day one with already stored parameters in optional IC tags.
Less shrinkage.
Equal weight of wax.
High production.
Strong machine for heavy production.
Reliable for production.
No retouch – no repair – no air bubble.
Auto start timer.
(1)Simple operation panel
PRIME X operation panel is very simple with soft touch keys for easy operation.
(2)Ultimate injection performance
PRIME X eliminates incomplete filling and flashes while reducing shrinkage.
Improved wax injection speed and accurate wax flow control ensures a high repeatability which is essential to maintain a constant wax weight and top quality results.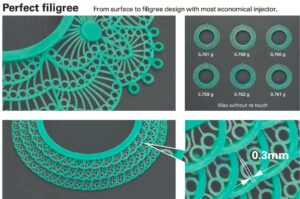 High quality wax pattern ensures perfect stone settings.
(3)Shooting by hands holding
You can purchase only PRIME X without clamp unit.
You will have much better result even by hand shooting.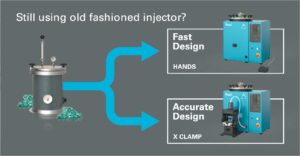 (4)Optional tools
Wax shooters don't have to consider and choose shooting recipe by using optional IC reader with IC tag in each rubber mold.

| | |
| --- | --- |
| SPECIFICATION | |
| | PRIME X |
| Power supply | AC230V, 50/60Hz, single phase |
| Power consumption | 0.48 kVA (max) |
| Compressed air supply | 0.40- 0.70 (MPa) |
| Temp. display range | 40-100 deg. C (104-212 deg.F) |
| Temp. set range | 40-100 deg. C (104-212 deg.F) |
| VAC time set range | 0-100 sec. |
| INJECTION time set range | 0-600 sec. |
| Heat ON timer | 6h-99h, every 0.5h |
| Wax capacity | Approx. 3.5kgs |
| Accuracy of nozzle temp. | ±0.2 deg. C |
| Injection pressure | 10-250 kPa (1.45-36.3psi) |
| Clamp unit | Option |
| Program memory stored | 10 |
| Foot switch for wax injection | Included |
| Overall dimensions | 523(W) ×373(D) ×543(H) mm |
| Demensions with optional X Clamp | 523(W) ×522(D) ×543(H) mm |
| Net weight | Approx. 25 kgs |
| Gross weight | TBA |
SPECIFICATIONS

X Clamp Std.

X Clamp Large

Compressed air supply
Supplied from PRIME X
Max. rubber mold size
110(W)x130(D)x 50(H)mm
135(W)x150(D)x 80(H)mm
CLAMP pressure range
30-300 kPa (4.35-43.5psi)
FORWARD pressure range
35-250 kPa (5.08-36.3psi)
HOLD time range
0-300 sec
Dimensions
170(W) ×268(D) ×342(H) mm
TBA
Net weight
Approx. 7.0 kgs
TBA
Gross weight
TBA